Full Text View
Volume 30 Issue 1 (January 2020)
GSA Today
Article, pp. 39–41 | Full Text | PDF
GROUNDWORK:
Recent Digital Technology Trends in Geoscience Teaching and Practice
Chevron Energy Technology Company, 1500 Louisiana Street, Houston, Texas, 77044, USA
Department of Geography, Texas A&M University, Eller O&M Building, Room 810, College Station, Texas 77843, USA
Abstract
Digital technology advances are rapidly altering the landscape of geoscience teaching and practice. Although geoscience has readily embraced new digital technologies in the past, the simultaneous emergence of innovations like open online courses and machine learning toolkits has greatly steepened the learning curve for geoscientists of all experience levels. Here, we discuss how these technologies are affecting the jobs of geoscience teachers and practitioners by highlighting a few technology-related trends in these areas. We also note the potential challenges of this new technological environment. A holistic view of digital technology trends can help geoscientists position themselves for success in a future where technological advancements will presumably continue to occur at an even more rapid pace.
Manuscript received 2 March 2019. Revised manuscript received 4 Sept. 2019. Manuscript accepted 17 Sept. 2019. Posted 11 Oct. 2019.
https://doi.org/10.1130/GSATG404GW.1
© 2019, The Geological Society of America. CC-BY-NC.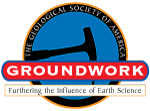 Search GoogleScholar
Search GSA Today