Abstract View
Volume 25 Issue 8 (August 2015)
GSA Today
Article, pp. 26–28 | Full Text | PDF (212KB)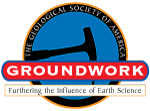 Search GoogleScholar for


Search GSA Today

GROUNDWORK:
Connecting geology and Native American culture on the reservation of Acoma Pueblo, New Mexico, USA
Earth, Atmospheric, and Planetary Sciences Department, Purdue University, West Lafayette, Indiana 47907, USA
STEM education focused on the perspectives and needs of Native American students is a missing element in the current U.S. educational system (Barnhardt, 1997). Consequently, very few Native American students pursue careers in the STEM disciplines, especially earth science (Beede et al., 2011). Ironically, many Native American students eventually learn that earth science is a tool their ancestors used for thousands of years and that a general mastery of science and engineering skills can benefit and help maintain their communities. Most Native students, however, see no connection between Western science and the goal of preserving their cultural identities. If STEM faculty, teachers, and other scientists can better explain the links between traditional indigenous knowledge, Western science, and community needs, we contend that this approach would attract more Native American and other underrepresented students to earth science.
Manuscript received 24 Nov. 2014; accepted 28 Jan. 2015
doi: 10.1130/GSAT-G235GW.1