Abstract View
Volume 25 Issue 2 (February 2015)
GSA Today
Article, pp. 28–29 | Full Text | PDF (83KB)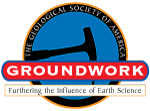 Search GoogleScholar for


Search GSA Today

GROUNDWORK:
Next Generation Science Standards: A call to action for the geoscience community
1 Dept. of Geology and Environmental Geosciences, Northern Illinois University, DeKalb, Illinois 60115, USA
2 Evergreen High School, Evergreen, Colorado 80439, USA
How do we ensure the health of our geology departments with a steady stream of majors and build an informed public prepared to make important decisions on geoscience issues? The Next Generation Science Standards (NGSS) are a critical step, and they require the support of geoscientists nationwide.
The NGSS demonstrate an expanded emphasis on earth-science topics (such as natural resource distribution, human impacts on climate, and geologic history) compared to previous standards (NGSS, 2012; National Research Council, 1996). The NGSS present a rare opportunity to significantly improve K–12 earth-science education nationally because they (1) include up-to-date, timely topics important for public decision making; and (2) increase the rigor and prominence of earth-science content in K–12 classrooms. However, adoption of the NGSS requires state-level legislative action. Without support from geoscientists at the state level, the implementation of NGSS nationwide is threatened.
Manuscript received 5 Nov. 2014; accepted 12 Nov. 2014
doi: 10.1130/GSATG233GW.1