Abstract View
Volume 28 Issue 8 (August 2018)
GSA Today
Article, pp. 36–37 | Article | PDF (418KB)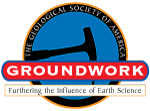 Search GoogleScholar
Search GSA Today

GROUNDWORK:
Teaching for Earth Resilience: A Strategy for Increased Diversity and Equity
Geology Dept. and Environmental Science Program, Wittenberg University, Springfield, Ohio 45501, USA
Science Education Resource Center, Carleton College, Northfield, Minnesota 55057, USA
Dept. of Earth Science, Penn State Brandywine, Media, Pennsylvania 19063, USA
Dept. of Natural and Applied Sciences, Bentley University, Waltham, Massachusetts 02452, USA
El Paso Community College, El Paso, Texas 79998, USA
Abstract
The geosciences fall behind all other reporting science, technology, engineering, and math (STEM) fields in graduation rates of underrepresented minorities (URM) (Wilson, 2017). Improving diversity and inclusion in our profession is important not only to meet the demand of our workforce, it is critical for improving community and policy outcomes. For this reason, we suggest that geoscience educators adopt a focus on earth resilience and the approaches it requires. Earth resilience is the ability to equitably, justly, and sustainably manage, plan, and adapt to resource challenges at local to global scales. The work of earth resilience professionals (e.g., disaster planning, environmental justice) calls for more than disciplinary skills and habits; it relies on empowering the talents of underrepresented and marginalized communities and networking to improve outcomes. Drawing from these strategies, earth educators might support more diverse and inclusive geosciences by (1) connecting with URM students through culturally and societally relevant curriculum that builds the disciplinary and civic skills and habits needed for social change, and (2) creating networks that expand entry points, mentoring, representation, and career preparation (Fig. 1). We describe examples of strategies that begin to empower URM students and call for greater investment on their behalf.
Manuscript received 20 Sept. 2018. Revised manuscript received 2 May 2019. Manuscript accepted 5 May 2019. Posted 24 May 2019.
© The Geological Society of America, 2019. CC-BY-NC.
https://doi.org/10.1130/GSATG388GW.1