Abstract View
GSA Today
Article, pp. 44–45 | Full Text | PDF (249KB)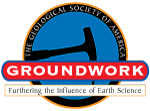 Search GoogleScholar


Search GSA Today

GROUNDWORK:
The High Plains Aquifer: Can We Make It Last?
Kansas Geological Survey, University of Kansas, 1930 Constant Ave., Lawrence, Kansas 66047, USA
Nearly a third of the United States' irrigated crops depend on one massive but dwindling water source: the High Plains aquifer. Declining water levels in the High Plains aquifer and responses to those declines are resource challenges that necessitate input from geoscientists.
Manuscript received 31 Aug. 2016; Revised manuscript received 18 Oct. 2016; Manuscript accepted 20 Nov. 2016; Posted online 24 Feb. 2017