Abstract View
Volume 25 Issue 12 (December 2015)
GSA Today
Article, pp. 36–37 | Full Text | PDF (154KB)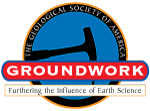 Search GoogleScholar for


Search GSA Today

GROUNDWORK:
Who will build the 21st century? Addressing critical demographic gaps in the geosciences
1 Dept. of Earth and Environmental Sciences, University of Iowa, Iowa City, Iowa 52242, USA;
2 Dept. of Geology/Geography, Eastern Illinois University, Charleston, Illinois 61920, USA;
3 Bartlett College of Science & Mathematics, Bridgewater State University, Bridgewater, Massachusetts 02325, USA;
4 American Geophysical Union, Washington, D.C. 20009, USA;
5 School of Geosciences, University of South Florida, Tampa, Florida 33620, USA;
6 British Geological Survey, Greenmeadow Springs, Tongwynlais, Cardiff CF15 7NE, UK;
7 Kansas Geological Survey, University of Kansas, Lawrence, Kansas 66047, USA;
8 Marathon Oil, Houston, Texas 77056, USA;
9 School of Earth Sciences, The Ohio State University, Columbus, Ohio 43210, USA;
10 Evo-Eco-Paleo, UMR 8198 du CNRS, Université Lille 1, Villeneuve d'Ascq 59655, France, and Dept. of Geology and Soil Sciences, Ghent University, Ghent 9000, Belgium;
11 BMC Aggregates L.C., Elk Run Heights, Iowa, 50707, USA;
12 Dept. of History and Dept. of Geographical and Sustainability Sciences, University of Iowa, Iowa City, Iowa 52242, USA;
13 Iowa Geological Survey, University of Iowa, Iowa City, Iowa 52242, USA
A Unique Opportunity for Cyberinfrastructure
The geoscience workforce in the United States may be facing a critical shortage of trained personnel (Gonzalez and Keane, 2011; NRC, 2013; Mosher et al., 2014; Wilson, 2014a). The National Bureau of Labor Statistics projects a 16% increase in geoscience jobs by 2022. If, as projected, more than half of the present geoscience workforce retires by that time (Wilson, 2014a, 2014b), up to 185,000 new geoscientists will be needed. Graduation rates in U.S. geoscience programs (Wilson, 2014a) are slowly increasing but still lack the capacity to produce such numbers by 2022 (Fig. 1A). The result is a projected shortfall of 135,000 trained geoscientists within the next decade (Wilson, 2014a, 2014b). To meet these growing challenges to our ability to research, assess, and utilize our natural resources in an environmentally responsible manner, we must increase the number of geoscience students.
Manuscript received 1 Feb. 2015; accepted 9 June 2015
doi: 10.1130/GSATG243GW.1