Abstract View
Volume 23 Issue 1 (January 2013)
GSA Today
Article, pp. 51–52 | Full Text | PDF (147KB)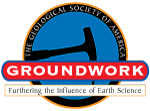 Search GoogleScholar for


Search GSA Today

GROUNDWORK:
GSA members on climate change: Where, what, and ways forward?
Dept. of Geological Sciences, 206 Natural Science, Michigan State University, East Lansing, Michigan 48823, USA
Climate change is one of the most pressing environmental, economic, and societal issues of the twenty-first century. Addressing climate change issues is difficult partly due to the disconnect between the scientific community and the public's understanding and perception of climate change issues. A number of studies have examined the views of the public and suggest that basic knowledge about climate change is limited and that many believe there is still no agreement in the scientific community about the possible causes and impacts (Hamilton, 2011; Whitmarsh, 2009). Fewer studies have looked at the broad scientific community, but those that have report that climate scientists who understand the climate process generally accept that anthropogenic climate change exists and agree that human activity has had a profound impact on Earth's climate (Doran, 2009; Oreskes, 2004). However, in order for vital information to be passed on to policy makers and voters, the scientists must put forth the effort to inform. Included in that effort is the need to communicate the agreement scientists share on climate change factors. Studies indicate that only 47% of the American public believes that there is scientific consensus on climate change (Doran, 2009); this belief needs to be addressed if scientists' views are to be accepted by the public. Here we look at the perceptions of Geological Society of America (GSA) scientists on climate change to understand (1) what are their biggest concerns; (2) what regions of the USA will be most impacted; and (3) how we bridge the gap between scientists and the public.
Manuscript received 22 May 2012; accepted 10 October 2012.
doi: 10.1130/GSATG157GW.1
Editor's note: This article was written and accepted for publication prior to the late October 2012 Hurricane Sandy superstorm.